My brother gave me this most amazing "Support Bacon" ribbon magnet yesterday: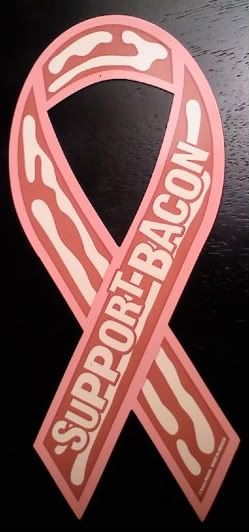 My dilemma is...I'm afraid someone will steal it if I put it on my car. Everyone wants the bacon. I'd like to proclaim my love of bacon via my vehicle but I think it may end up being a fridge magnet or else it would probably be just a fond memory of the cool magnet I used to have.
He got it at
Spencer's Gifts
but their website doesn't seem to have it. If I can find a place to buy it online I'll post a link but until then you may need to take a trip to the mall to sport one of these beauties on your car.