Torrid.com
is one of the very few places that have cool clothes for plus size women, like me. They always have great skull clothing but they also have fabulous shoes and accessories. I've picked out a few of my favorites but there's no way I could fit everything I like in one post.

Black Sadie Skull Faux Sheepskin Sherpa Boot - $39.00. I'm pretty sure these are coming home with me very soon.


Pink and Burgundy Skull Scarf
- $12.00. A pretty break from the usual black and white.

Tripp Royal Bones Skull Pocket Skinny-Leg Jeans
- $48.00. Skinny girls can find skull jeans in lots of places but these are one of the few that I've seen in women's sizes 12-26!

Beige Canvas Dia de los Muertos Hinge Wallet
- $18.00. How awesome is this Sugar Skull Wallet?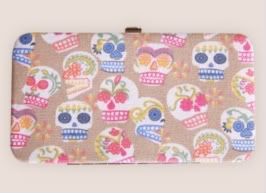 Black Patent Skull Cutout Flat
- $26.00. These are so perfect, with the subtle skull cutout at the front, I could wear these to the office without raising any eyebrows.

Silver and Black Enamel Skull Bracelet
- $12.00. Plus size or not, this super cute bracelet would look nice on anyone.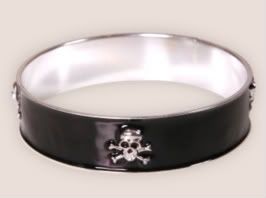 Black Skull Argyle Cardigan
- $48.00. You can keep it Klassy with this skull sweater. Rockin' yet refined.

Pink & Black Skull Snowflake Brief
- Sale: $6.99. Every woman should have some fancy skull underwear.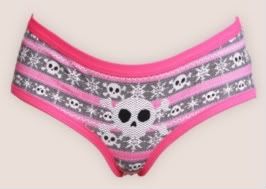 Torrid.com