Bacn.me - Your long URL needs some shrinkage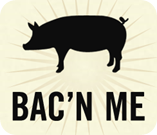 You probably have seen link shortening services before, maybe even used them to send your friends a link and this tool works the same way. Brought to you by the bacon loving people at Bacn.com, you enter a too-long URL and it spits back out a bacony short URL.
For the more advanced, you can also login to the site using an OpenID, so you can see how many clicks your links are getting. Also featured are a bookmarklet for easier link shortening and the list of top bac'nd URLs.