Do you believe in fate? I do, especially where it concerns bacon and ice cream. Tonight, before I left work, I was searching the interweb for some bacony goodness to post here. You may not be aware of this, but it's not always easy finding something new, exciting and post-worthy, bacon-wise. So anyway, I come across a picture on Flickr of a bacon ice cream sandwich from the Big Gay Ice Cream Truck. Intruiged, I went a googling.

I quickly landed on the Big Gay Ice Cream Truck's website and found out that this truck roams NYC with a very interesting ice cream menu:

Toppings:
Crushed Nilla Wafers
Dulce de Leche
Wasabi Pea Dust
Crushed Choco-Mint Cookies
Scharfen Berger Cocoa Nibs
Peppermint Syrup
Cayenne Pepper

Cartwheel Special:
Nutella

and THEN, I noticed their schedule posted which said the truck was currently DIRECTLY OUTSIDE OF MY OFFICE. Holy crap! Checked their Twitter and saw that they were heading to midtown in a few minutes. I grabbed my bag and shot out of the door on a mission.

And fate put this into my hands...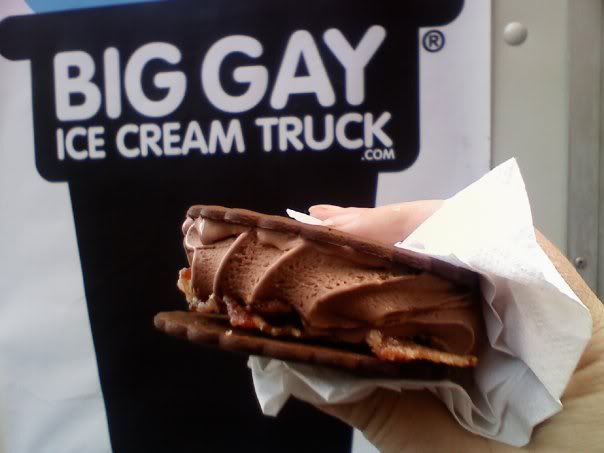 Yummy caramelized bacon, soft serve chocolate ice cream between two cartwheel cookies. OMG. DELICIOUSNESS. I've been doing a low-carb diet for a while now and this certainly wasn't in the plan, but I had to have it. I walked down 17th street like a little kid in a candy shop.

I talked to the guys in the truck and they were very nice but in my excitement over the bacon ice cream I was about to consume, I totally forgot to ask their names. I did pick up this magnet for $1.00 which is totally awesome.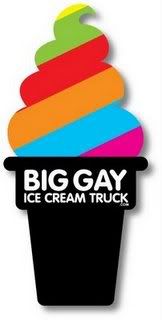 If you're in Manhattan and craving some offbeat ice cream treat or even just a sprinkled cone from some real nice guys, I highly recommend checking their website and twitter account for their location and current menu. According to their site the menu changes frequently and the bacon is just a trial run and in limited amounts, it wasn't even listed on the truck. The early bird gets the bacon!
A great end to an otherwise crappy Monday. :)