How amazing is this chair? I stumbled across Olde Good Things, a store that carries antique and architectural artifacts, just two blocks away from my office.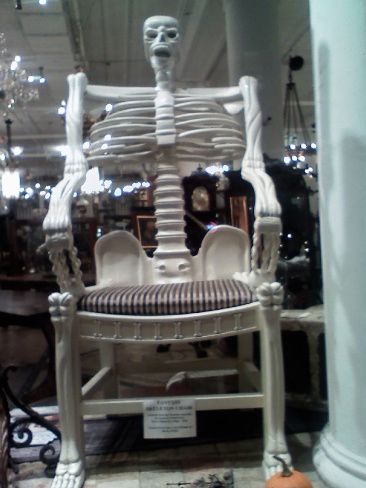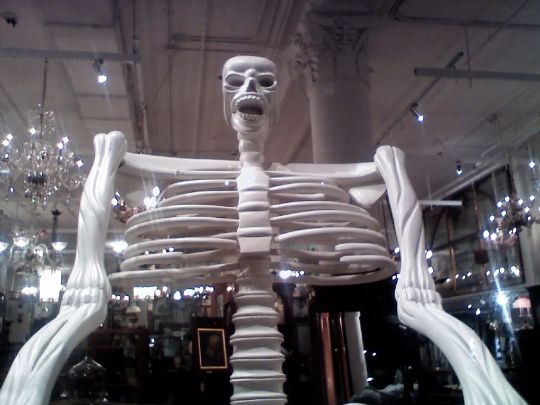 The picture is not the best since I took it through the store window with my cell phone. The sign on it said something about a Masonic Lodge and Vincent Price movie? So I had to investigate...

The inspiration for this distinctive chair is perhaps a known Russian example, signed and dated in Cyrillic, "Ivanovic Cheshcevi to Nickolai Ivanoovic Kolemin, Chair from Masonic Lodge 1838", which sold as lot 278 at Christie's, New York, January 25, 1992.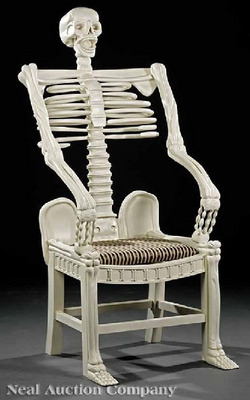 Vincent Price owned a whole set of skeleton chairs. At least four variations of the large, scary chairs have been sold in recent years. A few were painted white, one was dark mahogany and one was a rocking chair.

That Russian chair sold in London in 1980 for $36,300, sold again in 1992 for about half that, then sold in 2009 for $3,198 at Jackson's Auctions in Cedar Falls, Iowa. I believe the price tag in the window of Olde Good Things was $3500.

I covet this chair. I don't care how uncomfortable it probably is.

Go check out The Worley Gig for another great skeleton chair that Gail posted just today. Obviously, great minds think alike.