Helloooo...I could really use from friends in the U.K. right now! Please send over some Walkers Crisps (Potato Chips to us Americans) STAT!

'Do us a Flavour, Pick us a winner' is a competition to find the next flavour of Walkers Crisps. Walkers 'Do us a flavour' was the public's chance to create the next great flavour of Walkers crisps and they've been whittled down to these 6 finalist flavours: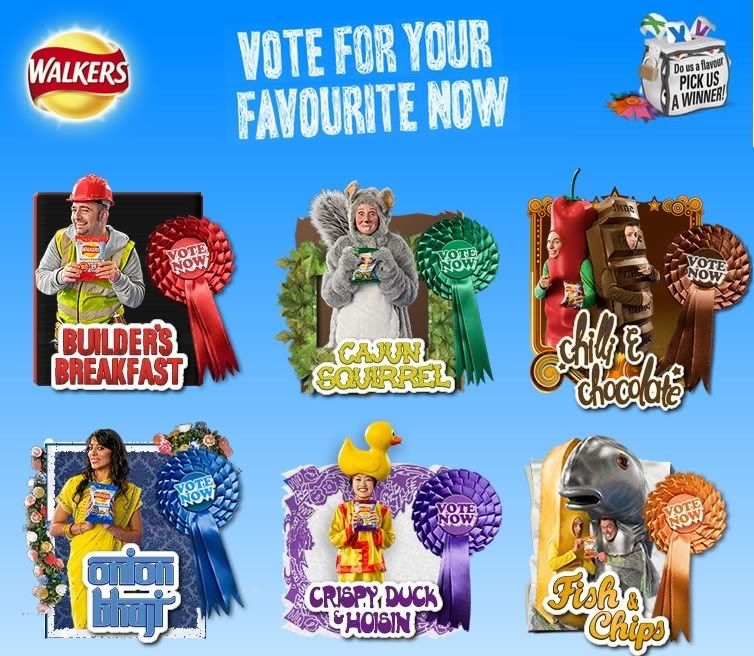 * Builder's Breakfast - Egg, bacon, sausage and beans
* Cajun Squirrel
* Chilli & Chocolate
* Onion Bhaji
* Crispy Duck & Hoisin
* Fish & Chips

I've never had a traditional full English Breakfast but I would love to try it in chip form. Acually I would love to try all of those flavors. I don't know what Squirrel flavored potato chips might taste like but Walkers say that no actual squirrels were harmed, so eat up if you can find them! How much is shipping from the U.K. anyway?

I've have had a chance to try the Smokey Bacon Potato Crisps and the Frazzles and they both had a great bacony taste. Much better than the Pringles Bacon Ranch which was edible but not something I would buy ever again. Anyway, Walkers is owned by Frito-Lay, which is a subsidiary of Pepsico so I can't understand why they can't do anything as adventurous here in the States. Check out just some of the Walkers flavors already available (some may have been limited edition):

* BBQ Rib
* Cheese & Onion
* Chilli & Lemon
* Marmite
* Pickled Onion
* Prawn Cocktail
* Roast Chicken
* Smoky Bacon
* Steak & Onion
* Peanut Butter
* Worcester Sauce
* Roast Gammon
* Sweet Cumberland Sausage
* Chicken Tikka
* Roast Turkey & Stuffing

I really can't understand why they are keeping these treasures out of the U.S.