Back in September, I warned you that Jones Soda was coming out with Bacon Soda. It made it's appearance a few days ago and even my mom has emailed me about it.

J&D's and Jones has teamed up and are offering the Bacon Soda as part of a gift pack with only two sodas. I'm not sure why you can't buy the soda separately and it looks like it probably won't make it into the stores. That said, the J&D's Bacon Jones Soda Gift Pack is pretty cool and only $9.99.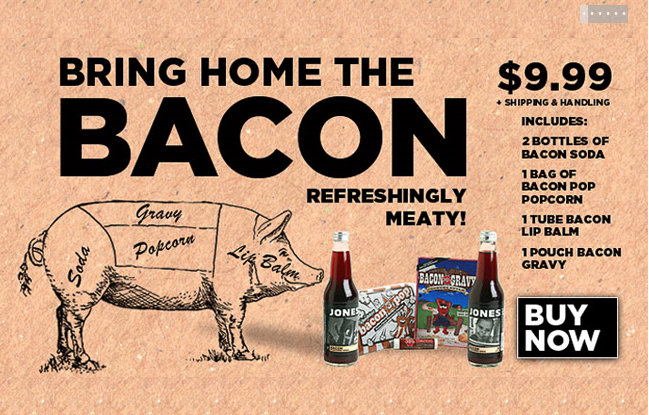 You can pick up the gift pack at either J&D's Store or from Jones Soda.

Included is:
Two bottles of Bacon Soda
One bag of Cheddar BaconPOP
One packet of J&D's Country Style Bacon Gravy
J&D's Bacon Lip Balm $ 9.99




I figure I'll try one of the soda's and keep the other on my bacon paraphernalia shelf. I'll let you know how it tastes once I get it! Truthfully, I'm a little scared but excited at the same time.