These fabulous rhinestone skull earbuds are so cool, I had to pick up a pair from Overstock.com. At only $11.99, I can't vouch for the sound quality, but who cares? I'll have skulls in my ears on my way to work!

Nemo Crystal Skull Earbud Headphones - $11.99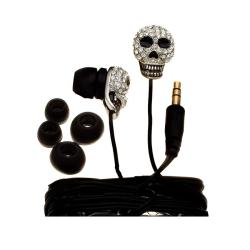 Not that I need any more skull stuff. I just got back from my first trip to L.A., which was absolutely amazing. On a good tip from a friend, we made a stop at Olvera Street where they were celebrating Dia De Los Muertos. There were so many merchants selling skulls that I pretty much lost my mind for a while. Seriously, at one point I was completely overwhelmed and unsure of what to do next. I was on a limited budget and really trying to pace myself. In the end, I only picked up a skull hat, skull earrings, handpainted skull matches, a Day of the Dead wedding statue and an awesome tin wall hanging with two flying skeletons around a flaming heart.

Here's some pics, even though they don't do justice to the experience. If you're around Los Angeles, I highly recommend visiting Olvera Street.