Why wait until Halloween to decorate your house with these excellent (and cheap!) Skull Balloons? You know how some people tie balloons up to the front of their house to announce the birth of a baby or a wedding? I say confuse and worry your neighbors by decorating the outside of your house with a few of these skull balloons this spring!

12" latex, $2.00 for an 8 pack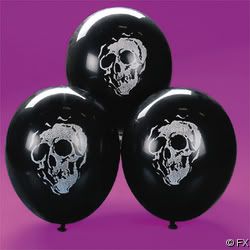 cdockpirates.com has some other interesting stuff too, like the Skull Loot Bags and Plastic Skeleton Cutlery.