Congrats to the winners of the BaconAddicts wristbands! They are Courtney Fisher, Dana M Lane, Parrish and Aaron.
Stay tuned for another giveaway next week!
Baconaddicts.com is like a one-stop shop for most of your bacon needs. They've got everything from The Bacon Explosion to Bacon Jam to Jim Beam Bourbon Bacon Mustard.
They also have these snazzy rubber bacon bracelets and were nice enough to send a couple to give away!

I Heart Bacon - Silicone Wristband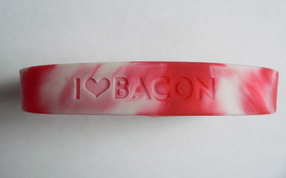 Bacon Addict - Silicone Wristband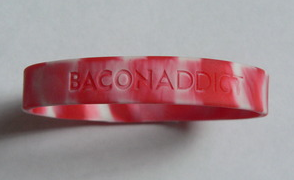 Three lucky readers will win one of the bacon wristbands pictured above. All you need to do is leave a comment and let me know what's your favorite way to eat bacon. Winners are chosen at random (I throw the names into a hat) and the contest is open until Friday 5/4/2012 at 11:59pm. Please make sure to be logged in when you comment so that I'll be able to contact you if you're a winner!
PLEASE NOTE: If you leave a comment as Unknown or anonymous, I won't have any way to contact you if you're a winner! Please make sure that you are logged into an account with your contact info when you leave a comment.