Rick Gresh, the chef over at David Burke's Primehouse at The James Hotel Chicago, has me floored with his edible Bacon Vinaigrette Candles! Pouring the candle on your dinner table over your salad? Ingenious.

Gresh says the delectable 2-inch votives leave lasting impressions on Primehouse's patrons. "We send [the candles] to the table and first, people think it's for ambiance. Then, when we drop the [spinach] salad, we pour the candle over it. You always hear a lot of screams," he laughs.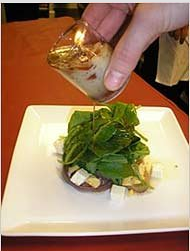 Not only can you try these at the restaurant but you can buy them for a measly $5 or since Rick was nice enough to share the recipe, make them for yourself at home.
For the bacon candles
1 cup red wine vinegar
2 gelatin sheets (or 1 teaspoon powdered gelatin)
3/4 pound bacon
2 teaspoons minced thyme
2 teaspoons minced parsley
1 teaspoon black pepper
Two 4-inch lengths of twine, dipped in vegetable oil
Two 2-ounce votive candle containers
For the spinach salad
1/2 pound spinach, washed, torn into bite-size pieces
Salt and pepper
1/2 red onion, sliced into 1/2 inch rings
1 egg, hard-boiled, peeled and coarsely chopped
Chipotle powder (optional)
2 ounces feta cheese, diced
1. Make the vinegar gelatin in a small pot, bring the vinegar to a boil and add the gelatin. Pour the gelatin into a small pan or bowl and chill until solid (about 2 hours). When set, chop the vinegar gelatin into small cubes.
2. Render the bacon: Cook the bacon over low heat until the fat is completely rendered (about 30 minutes). Pour the fat through a strainer, discard the solids, and chill. When fat is semi-solid (soft enough to stir easily but not too warm, or it will melt the gelatin), stir in the thyme, parsley and pepper.
3. Make the candles: Hold the twine in the candle container and spoon in a layer of the bacon fat. Top with a sprinkle of gelatin cubes, and repeat layers until the top of the container is reached. Repeat with the other candle. Chill until the fat is solid.
4. Make the salad: Toss the spinach with salt and pepper. Broil or grill the onion until soft. Dust the egg with chipotle powder, if using, and layer on a plate with onion, feta cheese and spinach. Light bacon candles, and after the fat melts (about 10 minutes), slowly pour over salads at the table.
Yum and yum.